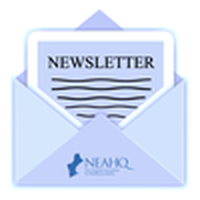 President's Message


It is officially summertime in New England! Kids are out of school for summer vacation and off to camp. The daylight lasts until 9 pm. Locals and tourists alike are flocking to the seashore, where ocean breezes keep temperatures down even when it's steaming hot in Boston. Lobster roll season, anyone?! We have much to recognize and reflect on these past few months, with Mental Health Awareness month in May, Pride month in June, and the national celebration of Juneteenth, a federal holiday commemorating the emancipation of enslaved African Americans. Across the country, people of all races, nationalities, religions, and gender identities came together to truthfully acknowledge periods in our history that shaped and continue to influence our society today. We have made substantial national progress, but there is opportunity for improvement as we strive for a more equitable healthcare system. Finally, there is nothing more important than our health and well-being. The impacts of the pandemic, the tragic events that have occurred around the country and the world, as well as the everyday stresses of family and work life, have taken a toll on all of us. Burnout and fatigue remain real risks. With the summer season upon us, we have an opportunity to remember one of the most important lessons that the pandemic taught us – taking time to care for ourselves and others. For support and resources, visit the National Alliance on Mental Illness, the nation's largest grassroots mental health organization dedicated to building better lives for the millions of Americans affected by mental illness.

NEAHQ is excited to kick off the summer with a new Board of Directors for the 2022-2023 year. Get to know the NEAHQ leadership team below or by visiting our website. We are going to be setting ambitious goals for this upcoming year, so stay tuned for updates in subsequent newsletters! The NEAHQ Board is also anxiously anticipating the return of in-person events for our membership. It's been over two years since the pandemic began and folks are gradually returning to offices, restaurants, and social events. We look forward to hosting an in-person networking event in the fall to celebrate Healthcare Quality Week 2022 (Oct. 16 th -22 nd ) and will seek to host an in-person annual conference in the spring of 2023. We can't wait to see your smiling faces once again! In the meantime, be sure to check out our upcoming virtual programs. Details can be found here, on our Events calendar. Have a great summer and take care,

Lauren Hartwell
NEAHQ President

Introducing the 2022 – 2023 NEAHQ Board of Directors!

President – Lauren Hartwell, MPH, Senior Program Manager, Population Health Management, Point32Health
Past-President – Haley Friedler, MPH, Epidemiologist, OM1 Inc.
President-Elect – Aliysa Rajwani, BDS, MPH, Assistant Director of Performance Improvement, Tufts Medicine
Treasurer – Lynn Keeley, CHES, Director of Performance Improvement, Whittier Rehabilitation Hospital
Directors
Lynn Myers, RN, MBA, CPHQ, Quality Project Leader, Tufts Medical Center

Jay Spitulnik, PhD, CPT, Associate Teaching Professor, Director of Health Informatics Graduate

Program, Bouvé College of Health Sciences, Khoury College of Computer Sciences, Northeastern University

Paola Peynetti Velázquez, MPH, Senior Performance Improvement Consultant, Cambridge Health

Alliance

Alyson Mitchell, CPHQ, Business Analyst, C3

Leigh Roche, RN, BSN, MBA, CPHQ, CPPS, Senior Clinical Quality Specialist, Dartmouth Hitchcock

Medical Center

Daniel Okyere, Sc.D, RN, CPPS, CPHQ, Charge Nurse, Department of Veteran Affairs, VA Bedford

Cheryl Dunnington, MS, RN, TCRN, CCRN-K, CPHQ, Trauma Program Manager, Boston Medical

Center
Free Educational Webinars
NEAHQ has joined a Healthcare Quality Collective with seven other state healthcare quality associations to offer FREE quarterly webinars for members. This means that NEAHQ members now have access to 28 FREE webinars each year – and 28 FREE CPHQ continuing education credits annually. We are thrilled to offer this incredible new membership benefit at no additional cost – so if you are not yet a member, now is the time to join! Participating state associations include Arizona, Florida, Georgia, Michigan, North Carolina, and Oregon.

NEAHQ is providing these additional benefits to foster continuous learning and development and make available networking opportunities for our membership. This new offering is being made available to all existing members at no additional cost and is available as part of your NEAHQ membership fee. To sign up for future webinars presented by the collective or NEAHQ, you can access the NEAHQ events calendar on the NEAHQ website.

To become a NEAHQ member, renew your membership or learn about corporate memberships, click here.

Program Committee
The program committee has been busy planning several summer webinars that tie together nicely and are free for NEAHQ members. We are also pleased to announce more free webinars being offered to NEAHQ members by our collaborating state associations through the multi- state quality collective we participate in.
In June, NEAHQ held Change Management for Patient-focused Care presented by Jay Spitulnik, MS, PhD which was an informative session about the importance of change management in patient-focused care. As a complement to our June event, we have planned Principles and Tools for Leading Change on July 28 th from 3:30pm – 5:00pm presented by Aliysa Rajwani, BDS, MPH, CPHQ. Attendees will be able to describe fundamental change management models and explain 1-2 change tools and how to apply to a case study. Click here to register today! Additionally, below are several other free webinars in the upcoming months that are available to register for:

Training the Quality Workforce at Johns Hopkins
Date: 12 Aug 2022
Time: 2:00pm - 3:00pm EDT
Click here to register
Staying afloat in the wake of the COVID 19 Pandemic: Emotional Intelligence is a critical life
preserver.
Date: 29 Sep 2022
Time: 12:00pm - 1:00pm EDT
Click here to register
Moving from Tactical to Purpose: Establishing a Learning Organization
Date: 20 Oct 2022
Time: 12:00pm - 1:00pm EDT
Click here to register
Daniel Okyere Attends IHI Conference
I am a lucky and proud recipient of a Professional Development Grant from the New England Association for Healthcare Quality (NEAHQ). The timing and use of this award has enabled me to pivot my career from direct clinical work to one in Quality. I attended the Institute of Healthcare Improvement (IHI) Patient Safety Congress in Dallas, Texas from May 16 th -18 th 2022. This conference was organized in four main tracks: Culture, Leadership and Governance; Patient and Family Engagement; Workforce Safety; and Learning Systems. The convergence of the ideas resulted in renewed, bold, honest and innovative insights about addressing health care inequality, promoting equity, and learning lessons from the COVID-19 Pandemic. I found that the discussions were geared towards collaborations of addressing both worker and patient safety simultaneously. In the past, more action had been geared towards patient safety which sometimes did not address worker safety issues with the same level of resources and commitment. The sentiment above was re-echoed in a variety of ways at a keynote address, Beyond Burnout: The Moral Injury of Healthcare. For me this was the highlight of the conference. A time to pause, reflect and explore cross-agency coordinated approaches to reinvigorating safety practices. This culminated in a commitment from leaders in healthcare to explore and reward initiatives to advance training in safety and quality for frontline staff.
My organization is on a journey to become a High Reliability Organization (HRO). I am keen to learn practical applications of some HRO tools and activities. This conference gave me an opportunity to interact and learn from healthcare systems about their HRO experiences. I plan to use this exposure and learnings from important conversations at this conference in my role in Quality.
Treasurer's Report
NEAHQ currently has $48,791.61 in total assets. Total revenue generated in 2022 YTD is $2,525. NEAHQ generated $2,125 in revenue from membership dues while $400 came from program and advertising fees. Total expenditures for 2022 YTD are $4,236.33. Total expenditures were made up of administrative and operating expenses. Net revenue for 2022 YTD came out to $-1,711.33. Most of our annual expenses come due in the first quarter of the year, so it is not uncommon to have a negative income at this point in the year. As always, please feel free to reach out to treasurer@neahq.org with any questions.
Board Member Spotlight

Paola Peynetti Velázquez
1. Would you please share a brief overview of your career?
I have always been interested in how systems work and how we can modify structures to improve the conditions that determine people's health. I'm originally from Mexico City and first moved to Boston to complete a dual-degree (BA + MPH) program at Boston University, where I focused on international systems, global health, and program management. After graduation (5 years ago), I joined Cambridge Health Alliance in the then-newly created Performance Improvement team in the Quality and Safety department. CHA is a community, academic safety net health system serving around 140,000 patients north of Boston. The focus of my work is to facilitate and drive the implementation of large-scale projects aimed to address the quadruple aim, improving patient safety, quality of care, provider and patient satisfaction, and improving overall outcomes while reducing cost and waste. Working at CHA has given me tremendous opportunities to develop leadership skills in a mission-centric setting while collaborating with a large number of stakeholders at all levels. As part of my role, I have helped implement telehealth across CHA during COVID and have been part of dozens of improvement teams in inpatient, outpatient, emergency, and non-clinical operations, with a special attention to Psychiatric services. A big part of my role is to support CHA´s academic mission, so presenting our work at conferences, working with practice-based courses in masters programs, guest lecturing in QI classes in different settings, and mentoring newer consultants and interns. I find teaching and learning very rewarding, so it has been a great fit overall.

2. Which aspect of your current position is especially rewarding?
I really enjoy supporting staff and providers at all levels of the organization as they drive improvement in their own settings. I like that as internal consultants, our role does not end by assessing the problem or providing recommendations; instead, it goes beyond the implementation, evaluation, and sustainability of the solutions.

3. Has any one individual greatly influenced your career?
Many professors, mentors, and colleagues have helped me grow over the years. In particular, three faculty at BUSPH challenged me to think about systems in a different, malleable way that allowed me to appreciate the critical role of healthcare organizations in achieving equity in public health. Additionally, three executive leaders at CHA have served as my mentors and have provided me immense guidance in personal and professional decisions. I enjoy learning from my teammates, from providers, and even from students I work with. Lastly, my Mom has worked in public health her whole life and has been at the WHO for the last 14 years. She inspires me to always do the right thing and never settle if I know we can do better, always keeping the patient at the center of our work.
4. What led to your involvement with NEAHQ?
I appreciate the collaborative mission of NEAHQ. When a former colleague discussed the organization and the opportunity to be on the board, I didn't hesitate to get involved. It´s a great community of supportive, intelligent, patient-centered individuals and I am learn something new in every meeting and event.

5. What are your goals as a NEAHQ Board Member?
My first goal is to improve the reach of our learning and development opportunities through the programs for our membership; my second goal is to facilitate connections and collaboration across different parts of our industry.

6. How do you balance your demanding professional life with your personal life?
I use weekends and after work hours to recharge, spend time with my family and frequently engage in activities that I enjoy such as skiing, cooking, and watching and playing soccer.

Join NEAHQ Now!
The New England Association for Healthcare Quality (NEAHQ) is the regional association for healthcare quality professionals. Since 1975, NEAHQ has provided a forum where healthcare quality professionals across the healthcare continuum can join together to advance this specialty. Our vision is to empower healthcare quality professionals across New England to improve health. We aim to serve as the resource of choice for healthcare quality professionals across the continuum for networking, education, and information, as a collaborative, member-oriented, inclusive, and continuously improving organization.
Benefits of a membership to NEAHQ include:
Free educational webinars: Access to over 25 free webinars a year through an education

collective with other state associations.

Membership Rates: Pay discounted rates to all NEAHQ events, including the annual conference.

Healthcare Quality Job Board: Browse healthcare quality job opportunities to further your


career or post an opportunity at your organization for other members to see.

NEAHQMember Forums: Use these virtual platforms to exchange information with other


members about healthcare quality trends and issues. Member forums allow you to ask a
question of your professional peers or share a best practice from your work to move healthcare

quality forward.

Archived Events: Did you miss an in-person event or webinar? As a NEAHQ member you can


access archived events so you will never miss an opportunity to stay up to date with the

healthcare quality knowledge.

Member-to-Member Networking: Interested in connecting with your fellow healthcare quality


in-person networking events or create a profile on the NEAHQ's professionals? Attend one of

Website Membership Directory.NEAHQwebsite and connect with other members through the

andhere

website NEAHQ Membership annual dues are $75. To join,

complete the form online or download it and mail it in with your payment.
PI Corner – Control Chart
The control chart is a graph used to study how a process changes over time. Data are plotted in time order. A control chart always has a central line for the average, an upper line for the upper control limit, and a lower line for the lower control limit. These lines are determined from historical data. By comparing current data to these lines, you can draw conclusions about whether the process variation is consistent (in control) or is unpredictable (out of control, affected by special causes of variation).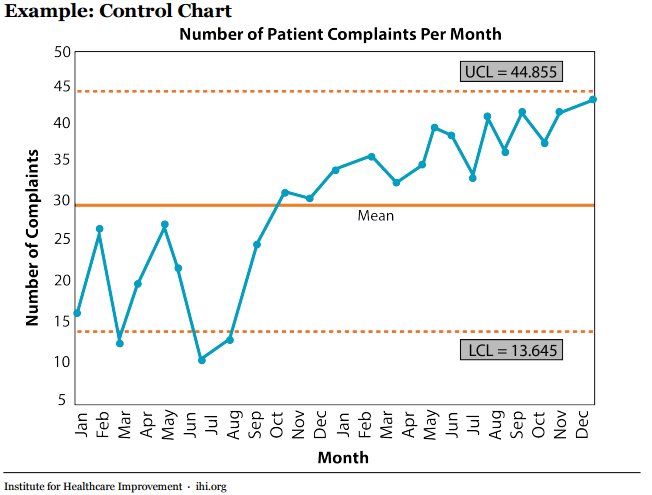 News from the Net
Declaration To Advance Patient Safety, Institute for Healthcare Improvement, May 2022. The National Steering Committee for Patient Safety (NSC) issued the Declaration to Advance Patient Safety in May to urge health care leaders across the continuum of care to recommit to advancing patient and workforce safety. The NSC called for immediate action to address safety from a total systems approach, as presented in the National Action Plan to Advance Patient Safety, and implored leaders to adopt safety as a core value and foster collective action to uphold this value. Recommit to Advance Patient and Workforce Safety To achieve the vision of health care that is safe, reliable, and free from harm, the Declaration to Advance Patient Safety calls for health care leaders to take collective and coordinated action by doing the following:
Review the 17 recommendations and tactics to advance patient safety presented in Safer Together: A

National Action Plan to Advance Patient Safety, a report that harnesses the knowledge and insights of

the National Steering Committee for Patient Safety members.

Id

entify a senior sponsor and core team charged with deploying the Self-Assessment Tool,

Identify

companion resource to the National Action Plan, to evaluate your organization's current state across

each of the four foundational areas, prioritized as essential to create total systems safety.

Establish and enact strategies, tactics, and measurement and improvement plans to meaningfully fortify and sustain

yo

ur organization's performance in each of the four foundational areas by leveraging

the Implementation Resource Guide, a companion resource to the National Action Plan.

For more information and to download the declaration, visit http://www.ihi.org/Engage/Initiatives/National-Steering-Committee-Patient-Safety/Pages/Declaration-
to-Advance-Patient-Safety.aspx
We Want to Hear From You
Do you have a quality event happening that you would like your fellow NEAHQ members to know about? We are interested in original content about a successful project, recent promotion and any other quality news you would like to share. Please submit articles for approval and posting to admin@neahq.org
---