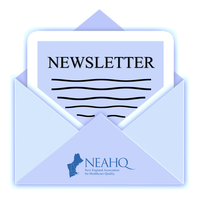 I hope all NEAHQ members and contacts had a relaxing and rejuvenating summer. In the blink of an eye, the summer months have gone, and fall is in the air! All over New England, porches are filled with pumpkins and mums, leaves are turning, and apples are ready to be picked. Students are back in the classroom and Sundays are for watching football. Let's go Patriots!
The NEAHQ Board of Directors capped off our summer with an in-person strategy retreat, held at the Northeastern University Innovation Campus at Burlington, MA on Saturday, September 17 th . This was the first time that the Board has gathered in-person since fall 2019. It was a wonderful opportunity to reconnect, refresh our mission and vision, and establish prioritized goals for 2023. I will be writing a blog post to share more detail about the outcome of our strategy retreat, so stay tuned!

This fall, we hope you'll take the time to connect at our virtual networking event on Thursday, October 20 th at 6:00 PM. Our community will come together to celebrate national Healthcare Quality Week – a dedicated time to acknowledge the progress made by healthcare and quality professionals toward improving patient outcomes and to prepare for the many challenges and opportunities that lie ahead. Finally, an important reminder that NEAHQ members now have access to 28 free webinars per year due to our engagement in the Healthcare Quality Collective. NEAHQ partners with six other state quality associations – Arizona, Florida, Georgia, Michigan, North Carolina, and Oregon – to offer free webinars (and free CE credits) for our members. If you're not a member, you are missing out. Join NEAHQ today! Webinar details can be found on our Events calendar.Now go grab a pumpkin beer and an apple cider donut – cheers!
Lauren Hartwell
NEAHQ President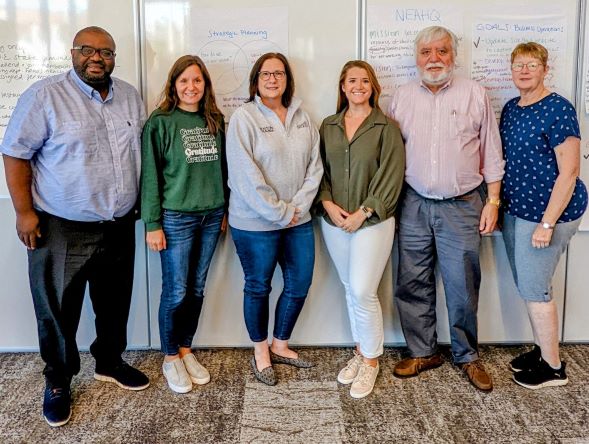 NEAHQ Board Members (from L to R: Dan Okyere, Alyson Mitchell, Cheryl Dunnington, Lauren Hartwell, Jay Spitulnik, Lynn Myers)
Free Educational Webinars
NEAHQ has joined a Healthcare Quality Collective with seven other state healthcare quality associations to offer FREE quarterly webinars for members. This means that NEAHQ members now have access to 28 FREE webinars each year – and 28 FREE CPHQ continuing education credits annually. We are thrilled to offer this incredible new membership benefit at no additional cost – so if you are not yet a member, now is the time to join! Participating state associations include Arizona, Florida, Georgia, Michigan, North Carolina, and Oregon. NEAHQ is providing these additional benefits to foster continuous learning and development and make available networking opportunities for our membership. This new offering is being made available to all existing members at no additional cost and is available as part of your NEAHQ membership fee. To sign up for future webinars presented by the collective or NEAHQ, you can access the NEAHQ events calendar on the NEAHQ website. To become a NEAHQ member, renew your membership or learn about corporate memberships, click here.

Program Committee
The NEAHQ program committee hopes that you enjoyed our summer program sessions associated with Change Management. To kick off the fall season, we held How Quality Improvement and Project Management Work Together with a focus on diagnosing the problem and implementing solutions, led by Alyson Mitchell, CPHQ and Lauren Hartwell, MPH. We are also holding a free virtual networking event on October 20 th at 6pm to celebrate Healthcare Quality Week (RSVP here) and we have planned a webinar called Human Factors and Patient Safety to be facilitated by Suzanne Meninger MS, RN, CPPS, CIC. Register here today!

Additionally, below are several other free webinars for NEAHQ members in the upcoming months that are available to register for through our Healthcare Quality Collective partnership:

Moving from Tactical to Purpose: Establishing a Learning Organization
Date: 20 Oct 2022
Time: 12:00pm - 1:00pm EDT
Click here to register

Thriving: Tools for the Way We Work Now
Date: 28 Oct 2022
Time: 3:00 – 4:30pm
Click here to register

Nursing Transition to Practice: Innovative Partnership to Promote Quality & Safety
Date: 18 Nov 2022
Time: 11:00am - 12:00pm EST
Click here to register

Treasurer's Report
NEAHQ currently has $47,093.91 in total assets. Total revenue generated in 2022 YTD is $5,643.27. NEAHQ generated $4,459.88 in revenue from membership dues while $1,138.39 came from program fees and $45 from advertising fees. Total expenditures for 2022 YTD are $8,742.66. Total expenditures were made up of administrative and operating expenses. Net revenue for 2022 YTD came out to $-3,099.39. Most of our annual expenses come due in the first half of the year, so it is not uncommon to have a negative income at this point in the year. As always, please feel free to reach out to treasurer@neahq.org with any questions.
Board Member Spotlight - Daniel Okyere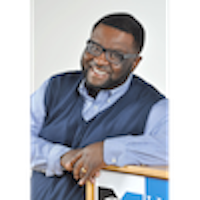 Would you please share a brief overview of your career?
Originally from a Social Science background, I segued to become a Registered Nurse. Being curious, I sought to understand the interaction between individuals' risk of dis(ease) and public health. Spurred on, I trained in Demography and Health and was intrigued about how work environments can cause several states of (dis) ease. I continued to explore the links between worker safety and patient safety for my doctoral studies. I have worked in both frontline clinician and administrative capacities. My current work is in System Redesign under the aegis of Quality Improvement. At best I will say my career has allowed me to understand people, healthcare environments and how to keep both workers and patients safe.

Which aspect of your current position is especially rewarding?
I work with a fantastic and supportive team. Leadership is committed to improving Quality, Service and Value. That makes a difference. We practice what we preach. We provide the best care for our customers and nurture a workforce that will address future challenges. My work in System Redesign allows me to fit the job to the worker to provide quality care. I am always excited when teams and individuals make inquiries about how to be involved in quality initiatives

Has any one individual greatly influenced to your career?
Without teachers, mentors, advisors and critics, I may not have been focused to reach certain professional goals. It has taken a village to cheer me on.
What led to your involvement with NEAHQ?
Professional curiosity about belonging to a professional association that was local and reputable, which also allowed diversity in all forms.

What are your goals as a NEAHQ Board Member?
To leverage my collaborative skills to help attract and recruit membership to NEAHQ, and sustain the gains that have been made into making this an attractive organization.
How do you balance your demanding professional life with your personal life?
I practice what I preach, personal-work life balance. I use goal setting to make small and incremental changes and I have learned to celebrate the small wins. It works for me.

Join NEAHQ Now!
The New England Association for Healthcare Quality (NEAHQ) is the regional association for healthcare quality professionals. Since 1975, NEAHQ has provided a forum where healthcare quality professionals across the healthcare continuum can join together to advance this specialty. Our vision is to empower healthcare quality professionals across New England to improve health. We aim to serve as the resource of choice for healthcare quality professionals across the continuum for networking, education, and information, as a collaborative, member-oriented, inclusive, and continuously improving
organization.
Benefits of a membership to NEAHQ include:
Free educational webinars: Access to over 25 free webinars a year through an education collective with other state associations.

NEAHQ Membership Rates: Pay discounted rates to all events including the annual conference

Healthcare Quality Job Board: Browse healthcare quality job opportunities to further your career or post an opportunity at your organization for other members to see.

Member Forums: Use these virtual platforms to exchange information with other NEAHQ members about healthcare quality trends and issues. Member forums allow you to ask a question of your professional peers or share a best practice from your work to move healthcare quality forward.

Archived Events: Did you miss an in-person event or webinar? As a NEAHQ member you can access archived events so you will never miss an opportunity to stay up to date with the healthcare quality knowledge.

Member-to-Member Networking: Interested in connecting with your fellow healthcare quality professionals? Attend one of NEAHQ's in-person networking events or create a profile on the website and connect with other members through the NEAHQ Website Membership Directory.

Membership annual dues are $75. To join, go to the NEAHQ website at https://www.neahq.org/join and complete the form online or download it and mail it in with your payment.
PI Corner – Concept Map
A concept map is a graphical mapping tool that organizes ideas and visually represents the relationships between concepts. Concept maps usually follow a hierarchical top-to-bottom format and use linking words to illustrate relationships between concepts. Concept maps are powerful visual tools that can be
used:
To facilitate learning

To evaluate knowledge and understanding of processes

To develop new business concepts and strategies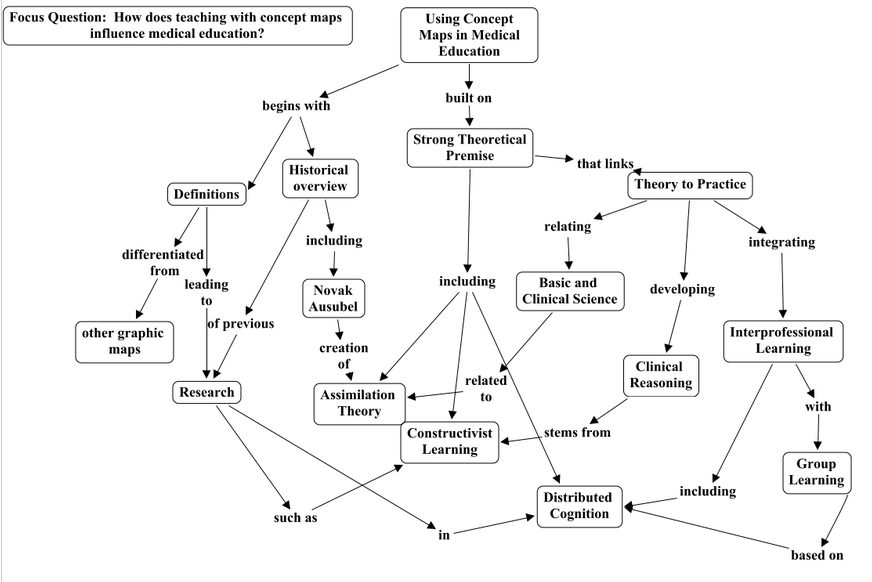 News from the Net
"The Raising The Bar" Presents Actionable Framework To Improve Equity, Well-being, HealthLeaders Media, July 14, 2022.
"The Raising the Bar"; framework presents actionable items health systems can apply to their equity efforts. There are five core principles to the framework: mission, equity, community, power, and trust. For more information on the framework, visit https://rtbhealthcare.org/ Handbook Provides Tips for Primary Care Practices to Use Data to Improve Care. A new AHRQ handbook provides strategies for primary care practice coaches to support improved care through the use of health information technology. Coaches can use the handbook to help primary care practices collect and extract high-quality clinical data from electronic health records to support quality improvement, practice transformation, and implementation of new, evidence-based clinical interventions. AHRQ Launches Measure Dx Diagnostic Safety Tool Measure Dx, a new patient safety resource released by the Agency for Healthcare Research and Quality (AHRQ), helps health system leaders, quality and safety professionals, and clinicians advance efforts to improve diagnostic safety. The tool provides teams with practical guidance and strategies to detect and learn from diagnostic safety events in their organizations. It includes a checklist to gauge readiness for implementation, measurement strategies and recommendations for analyzing data and translating findings into improvement.
We Want to Hear From You
Do you have a quality event happening that you would like your fellow NEAHQ members to know about? We are interested in original content about a successful project, recent promotion and any other quality news you would like to share. Please submit articles for approval and posting to admin@neahq.org
---