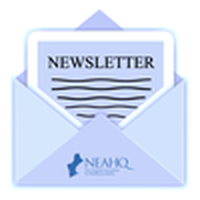 President's Message

It's hard to believe that as I write this, it's the first day of fall already! I'm looking out the window from my home office and the leaves are starting to show their stunning shades of orange, red and yellow as the crisp autumn breeze passes through them. As much as I love summer, there is something nostalgic about fall in New England that has me craving soup, apple crisp, and football Sundays. I've put away my shorts and dresses to make room for cozy sweaters as I look forward to making the most of this short season, and to be mindful of its beauty and refreshing nature.
On another note, I'm excited for NEAHQ's fall educational programs, and thanks to your feedback from the recent program survey that was sent out, we were able to plan two events with topics that closely aligned to the most prevalent topics of interest – Racial Disparities & Health Equity, and Effective Communication in Healthcare Quality. Be sure to review the program update in this issue of the newsletter for more information about the survey responses and upcoming programs. Of course, we at NEAHQ also love celebrating Healthcare Quality Week (October 20-26) in honor of our fellow healthcare quality professionals that are dedicated to improving the quality of care and outcomes at our New England healthcare organizations. We thank for your passion and all the efforts you put forth, and we will continue to raise awareness about the important contributions that healthcare quality professionals make.
Lastly, I wish you & your loved ones well as we approach this year's flu season while continuing to battle COVID-19, virtual learning, and the many "new norms" that have come upon us in these last six months. It has not been easy, and sometimes it's hard to see the light at the end of the tunnel, but it is there.
"A Hero is an ordinary individual who finds the strength to persevere and endure in spite of overwhelming obstacles." ― Christopher Reeve
Last Chance to Apply for Professional Enhancement Grant
The mission of the New England Association for Healthcare Quality (NEAHQ) is to empower healthcare professionals throughout New England by providing education, networking, certification preparation and professional practice resources. To support this mission and further promote the professional development of our members, the NEAHQ Board of Directors is pleased to announce a call for applications for the 2020 Professional Enhancement Grant.
The grant provides $1200 financial assistance to NEAHQ members to obtain the Certified Professional in Healthcare Quality (CPHQ) credential or for a current CPHQ to attend an educational conference.
NEAHQ members in good standing are eligible to apply. The grant will be awarded based on the applicant's compliance with eligibility criteria as well as the quality and comprehensiveness of responses on the application, which can be found HERE
NEAHQ will be accepting applications through October 10, 2020 and the grant will be awarded during Healthcare Quality Week, October 18 - 24.
Utilizing Process Improvement Principles to Develop a Standardized Patient Safety Pathway at Tufts Medical Center

Aliysa Rajwani, BDS, MPH
Assistant Director of Performance Improvement- Department of Quality & Patient Safety
Tufts Medical Center
Background: Tufts Medical Center is striving towards becoming a High Reliability Organization (HRO) with the goal of reducing adverse patient outcomes, near miss safety events & achieving zero harm. This is also a corner stone in the Medical Center's 5-year strategic plan & vision. One of the key strategies towards accomplishing this goal involved the development of a standardized Patient Safety Pathway that aims to conduct a robust investigation of the safety event and close the loop on corrective actions & solutions.
The Performance Improvement team from the Quality & Patient Safety Department (QPS) in collaboration with the Department of Risk Management utilized a process improvement approach to develop and implement the pathway.
Approach/ Methods Utilized: A current state analysis was conducted to understand the pain points with the existing process with a multi-disciplinary group of subject matter experts. The value stream map & fishbone diagram developed as an outcome from the current state analysis, also served as the basis for the design session of the future state process. In addition, a robust literature review was conducted to provide insights into best practices utilized by other organizations and helped identify criteria for all phases of the safety event pathway. Lastly, the multi-disciplinary team conducted several PDSA cycles or tests of change & constantly adapted the pathway. A safety event tracker was also developed by the teams, which helped assess improvements post implementation and track outcomes from all phases of the Safety Event Pathway.
Safety Event Pathway: The Safety Event pathway includes 4 phases: Event Investigation and Debrief, Event Analysis, Solutions Planning & Control Phase.
Phase 1 or the 'Event Investigation & Debrief' phase involves an initial review of the event at a 'Safety Huddle' with all involved stakeholders. The goal of the 'Event Huddle' is to assess event severity, determine the need for Causal Analysis and identify immediate risk mitigation strategies. In addition, the event investigation phase also involves providing peer support & conducting event disclosures, if applicable. The literature review helped establish standard criteria for conducting a 'Safety Huddle' and led to the development of an algorithm for classifying event severity.
Phase 2 or the 'Event Analysis' phase is focused on conducting an event investigation which can be either a Root Cause Analysis, Apparent Cause Analysis, Multi-Disciplinary Review or an M&M based on the type of safety event.
Phase 3 or 'Solutions Planning' is focused on identifying strategies & change ideas for systems improvement. The interventions developed as part of 'Solutions Planning' require the identification of measures of success, operational owners, timelines & executive sponsors as part of the 'Solutions Plan' (also commonly known as an action plan)
Phase 4 or the 'Control Phase' requires periodic report out from assigned clinical & operational leads on 30, 60 & 90 day outcomes from the Solutions Plan to ensure sustainability with change ideas.
For all 4 phases of the Safety Event Pathway timelines, ownership, tools & templates were developed. The outcomes from all phases of the pathway are documented on the event tracking tool which also served as an effective mode of communication to close the loop with the senior leadership team at the medical center.
Outcomes & Next Steps: Utilizing a process improvement approach & principles from the IHI Model for Improvement helped develop a standardized safety event reporting pathway with the support of a collaborative multi-disciplinary group at Tufts Medical Center. The pathway was implemented with the support of the leadership team and is an important step forward for Tufts Medical Center towards becoming a High Reliability Organization.
The New England Association of Healthcare Quality (NEAHQ) invites you to become a member of our organization that represents healthcare quality professionals across New England.
NEAHQ membership offers many benefits:
Educational programs (in-person and virtual) including an Annual Conference and Webinars offering continuing education and CPHQ credits at reduced rates

Networking Events to meet peers and exchange ideas

Social Networking through LinkedIn

Healthcare Quality Job Board

E-Newsletter covering important trends in healthcare quality and NEAHQ news

CPHQ Review Course

Member Forums

Archived Events

Opportunities for volunteerism and committee participation
NEAHQ Membership annual dues are $75. To join, go to the NEAHQ website at https://www.neahq.org/join and complete the form online or download it and mail it in with your payment.
Greetings NEAHQ members! We hope you have been enjoying this beautiful fall weather in New England and engaging in your favorite autumn activities. Whether it's apple picking, a pumpkin patch, watching football, or hiking among the colorful leaves – please continue to stay safe and healthy! Best of luck to members heading back to school this fall or supporting your kids in the new hybrid education models. We are thinking of you!
The Program Committee is back in action and excited to offer new virtual programs. On September 23rd, we hosted the webinar "Racialized Data: Debunking the Myth of Neutrality & Experiments in Being Explicit in Public Health," with Professor Meenakshi Verma-Agrawal, Assistant Program Director and Associate Professor of Practice at MPH@Simmons. Prof. Verma-Agrawal led an interactive and engaging workshop that explained important concepts such as equity vs. equality, disparities vs. inequities, and the levels of racism. We also explored the ways in which public health data are presumed to be neutral, when in fact there is often important historical context left out. Using Boston as an example, Prof. Verma-Agrawal demonstrated how the racially biased process of redlining certain neighborhoods is now related to higher rates of asthma, chronic disease, and COVID-19 in those areas.
Recently, we conducted a membership engagement survey to learn about your programmatic interests. When asked to rank topics in order of preference, 64% of members selected "Effective Communication in Healthcare Quality" as their first or second choice. Many of you also suggested change management and influence as additional topics. We listened and we delivered!
Next month, we celebrate Healthcare Quality Week 2020 on Wednesday, October 21st at 12 PM with a new webinar program "Effective Communication is Essential to Healthcare Quality and Safety." Our speaker, Gloria Stone Plottel, is the Founder and CEO of GSPsquared LLC, a consultancy focused on helping healthcare organizations improve care delivery and manage change. She is also on the Board for NEAHQ. Join Gloria to learn how attaining high reliability in healthcare demands communication that is precise, succinct, and understood. Click HERE to register for this program today!
The Program Committee will now turn our attention to planning the Winter Webinar Series, three virtual programs offered between December and March. In response to feedback on the membership engagement survey, we plan to offer a series of skill building sessions focused on your other topics of interest, including COVID-19 pandemic recovery and measurement for regulatory agencies. We look forward to announcing these virtual programs soon. Stay tuned!
Lauren Hartwell & Aliysa Rajwani
NEAHQ Program Committee Co-Chairs

NEAHQ currently has $45,083.17 in total assets. Total revenue generated 2020 YTD is $8,005.10. Revenue was generated from webinar fees, program fees, membership dues, advertising fees and bank account interest. Total expenditures for 2020 YTD are $11,866.83. Expenditures were related to administrative and operating expenses, as well as program refunds. Net revenue for 2020 YTD is -$3,861.73.
While we continue to operate at a loss this year, NEAHQ has enough assets to carry us through this difficult time. The Finance, Membership and Program Committees all have exciting revenue generating activities planned that should help minimize our loss this year.
For complete details, please reach out to treasurer@neahq.org
Board Member Spotlight - Kristina Kehlenbach

Would you please share a brief overview of your career?
My career began as an acute care Physical Therapist with a passion for critical care, orthopedic and neurorehabilitation. In addition to practicing full time, I grew eager to practice across the continuum of care and pursued additional per diem opportunities in short term and long term rehabilitation and home care. Over the years my personal goals shifted toward leadership and affecting quality of care on a larger scale. Therefore I transitioned into a position as the Manager of Inpatient Rehabilitation. Leadership additionally allowed me the opportunity to not only lead a clinical team but to expand my knowledge and contributions in CQI initiatives for joint replacement, stroke, safe patient handling, wound and skin, fall committee and regulatory preparedness. This was the impetus for my career in quality improvement and patient safety. After 4 years managing inpatient rehabilitation, I accepted a position as the first patient safety coordinator in 2012, focused on driving organizational growth and culture change for our organization's journey to a high reliability organization. I have been a dedicated quality professional for the past 8 years in all aspects of quality with an expertise in high reliability, human factors analysis, systems thinking, process improvement. I am currently the Manager of Quality and Patient Safety and the Patient Safety Officer for our health system and look forward to my career advancement as the next Director of Quality and Patient Safety in 2021.
Which aspect of your current position is especially rewarding?
The most rewarding part of my work is observing the positive patient and staff outcomes achieved as a result of my contributions. One of the most valuable contributions of my work has been the many lives that have been saved by driving our serious safety event rate down by 85% since 2012 as we continue our pursuit of zero patient harm. The facilitation and evolution of this work is truly fulfilling. As a result, Middlesex Health is acknowledged as a best practice hospital for HRO in the state of Connecticut.
Has anyone individual greatly influenced your career?
I have had many great mentors, coaches, friends that have greatly influenced my career. The most influential has been a friend who helped me see my potential and the positive impact I'm making in the field of quality and patient safety. She continues to inspire me to strive for more and never accept the status quo and always think about being the change, "If not me, then who? If not now, then when?"
What led to your involvement with NEAHQ member?
My passion to align myself with like-minded individuals striving to impact, connect and grow the profession of healthcare quality.
What are your goals as an NEAHQ Board Member?
As a new member of NEAHQ, I'm excited to join the Board as an active Director for NEAHQ representing the state of Connecticut. I look forward to growing Connecticut's membership to assist with the growth and expansion of NEAHQ through the acquisition of many talented future members. My vision for NEAHQ is to become the primary regional organization that defines the QI professional's practice, providing opportunities for competency, role, ethics, and growth in order to take our expertise and value to the next level.
How do you balance your demanding professional life with your personal life?
Balancing my professional life with my personal life can be a challenge but I try my best to live in the moment and to be mindful of being present with my family and friends when I'm not at work.
A run chart is a line graph of data plotted over time. By collecting and charting data over time, you can find trends or patterns in the process. Because they do not use control limits, run charts cannot tell you if a process is stable. However, they can show you how the process is running and provide evidence of improvement.
A National Roadmap to High Quality Care for Every Person, Every Time, Everywhere
Last year the National Quality Forum convened the National Quality Task Force – a group of nearly 100 diverse healthcare leaders – to align the healthcare community behind a common vision and to plot the steps needed to move the country forward on this path.
The Care We Need highlights the stories of real people and details actionable recommendations and strategies to drive change. The Task Force calls on private and public sector leaders to embrace the recommendations to make sure care is high value for every person, every time, everywhere by 2030.
To view the full report and recommendations, visit https://thecareweneed.org/
---