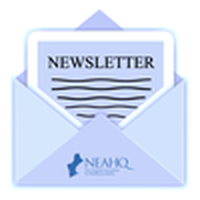 President's Message

Alyson Mitchell
Happy New Year! I can hardly believe that we are welcoming 2021 already – it seems as though we just rang in 2020 with the typical hopeful cheer and resolve only to be swept into a cyclone of unimaginable magnitude making it difficult to discern what was accomplished. What is certainly clear is that healthcare professionals and medical scientists are incredibly resilient in leading through chaos and achieving the unthinkable. As we begin this new year, I am wishing for global health & well-being, transformation, collaboration, and compassion as we continue to face challenges and find solutions.
On that note, I'm excited to preface NEAHQ's 2021 webinar programs that were thoughtfully planned to ensure that our members and program participants benefit from self-care activities to prevent burnout, expertise related to regulatory accreditation surveys, and skill-building in healthcare informatics. Find more details in this newsletter's program update! Additionally, our membership committee has planned a true networking event later this month to give us all a chance to learn more about each other and build relationships without an educational component – since we are aware that many of us have spent almost a full year remote learning and/or helping our children succeed with virtual education. So, it's time to have fun and make valuable connections. Lastly, we are still working to ensure that our spring annual meeting & educational conference is robust and aligns with the current needs of our membership. If you have any ideas about topics, or are interested in presenting, please let us know by emailing admin@neahq.org.
On behalf of the entire NEAHQ Board of Directors, we thank you for participating in whatever way you have with our organization and look forward to a better year ahead.

Professional Enhancement Grant Awarded!
The NEAHQ Board of Directors is pleased to announce that Manvir Nijjar was awarded the 2020 NEAHQ Professional Development Grant. Manvir is the Senior Transplant Quality Manager at Tufts Medical Center.
Manvir will use the $1200 grant to pursue Certified Professional in Healthcare Quality (CPHQ) certification.
We received several excellent applications and had to make difficult choices between high-caliber candidates. The applicants all spoke eloquently about their desire to improve their knowledge and skills and to be advocates for patients and their families by improving the systems of care delivery.
Congratulations to all the applicants.
Managing Conflicts and Maximizing Transparency in Industry Funded Research
NEAHQ Board Member Gloria Stone Plottel recently published an article in the journal AJOB Empirical Bioethics.

Below is the abstract with link to full article.
Abstract Background: Industry funding of research comes with important conflicts of interest, especially when research findings have financial implications for funders. When considering industry funding, academic investigators seek ways to mitigate and manage conflict to ensure integrity of research design, analysis, interpretation, and to protect researchers' and their institutions' credibility. This qualitative study's purpose was to conduct semi-structured interviews with expert stakeholders to gain insight into industry funding of research focused on nutrition and obesity, and determine the feasibility of developing a transparent process using an advisory board to help govern industry funding and manage conflict.
Methods: We conducted seven semi-structured interviews with a purposive group of expert stakeholders representing varied perspectives. We distributed a summary of the advisory board concept to interviewees; developed and used a 16-question interview guide; and analyzed the interviews using open coding, manifest content analysis, axial coding, and code list reviews to identify and refine themes.
Results: Most interviewees agreed that managing conflicts between industry funders and researchers was possible but difficult. They believed a carefully constructed advisory board empowered with specific responsibilities could help facilitate this process. They posited that strict guidelines are required to protect research quality and reporting, researcher(s)' and research institution(s)' reputations, and subsequent policy influenced by the research findings. They recommended specific guidelines and a framework for developing and administering the advisory board.
Conclusions: A carefully constructed advisory board empowered with specific responsibilities could be useful to manage actual and perceived conflicts of interest, and increase transparency of research processes, funding, and results for industry-funded research. Stricter guidelines than those previously proposed in existing frameworks are needed to instill confidence in industry-funded nutrition and obesity research. A possible next step could include a pilot study of the advisory board concept to determine specific requirements for execution and to develop rigorous guidelines.
Citation: Gloria Stone Plottel, Rachel Adler, Chelsea Jenter & Jason P. Block (2020) Managing Conflicts and Maximizing Transparency in Industry-Funded Research, AJOB Empirical Bioethics, 11:4, 223-232, DOI: 10.1080/23294515.2020.1798562
To link to the article: click here

Interested in becoming a NEAHQ Director?
The NEAHQ nominating team is seeking applications for the 2021-2022 Board of Directors ballot that will be presented to the membership for a vote in March 2021.
Becoming a part of the NEAHQ leadership gives you the opportunity to help shape the future of the organization and healthcare quality. Board leaders are responsible for:
Guiding the association

Anticipating change in the quality environment

Addressing the interests and needs of members
The candidate positions available include:
President-elect:
The President-elect position is a three (3) year commitment, serving a year as President-Elect, a year as President and a year as Past- President.
Director:
Directors serve for a one-year term, act as a representative of the healthcare quality professional community, serve as an ambassador for stakeholder and community relations and work with Board to carry out its responsibilities. They also participate in supporting the work of the various committees.
Please contact Lynn Myers at 617-636-4826 or lmyers@tuftsmedicalcenter.org to discuss the various positions or complete an application.
Greetings NEAHQ members, and Happy Holidays to you and yours! It's the most wonderful time of the year and one of the busiest times for the Program Committee.
In October, we celebrated Healthcare Quality Week with the webinar "Effective Communication is Essential to Healthcare Quality and Safety," featuring Gloria Stone Plottel, Founder and CEO of GSPsquared LLC, a consultancy focused on helping healthcare organizations improve care delivery and manage change. In November, we hosted two networking events to introduce public health students to careers in healthcare quality at the Boston University and Brown University Schools of Public Health.
We are also finalizing the Winter Webinar Series, which consists of three virtual programs offered between January and March. Topics will include Mindfulness for Burnout/Stress, Regulatory Readiness, and Healthcare Informatics. Registration will be available soon at www.neahq.org. Keep an eye out for marketing emails with more details!
Finally, NEAHQ is excited to announce a virtual New Year's Party! Members requested more networking events when surveyed earlier this year, so we are going to deliver! Plus, 2020 was a doozy and we could all use some fun in 2021. Please join us for an evening of virtual networking on January 14th from 5-6:30 PM. Get to know the NEAHQ Board and other members from the comfort of your own home in a small group speed networking format. We hope to see you there! Click HERE to register today.
Lauren Hartwell & Aliysa Rajwani
NEAHQ Program Committee Co-Chairs
Board Member Spotlight – Aly Mitchell

Would you please share a brief overview of your career?
My clinical background is in Occupational Therapy; however, I've spent most of my career in healthcare operations, most recently in ambulatory performance & quality improvement.
Which aspect of your current position is especially rewarding?
I really enjoy helping provider groups improve their preventive care screening goals for cancer and diabetes because I know from personal experience with my own family members how important it is to prevent the complications that come along with these diseases.
Has any one individual greatly influenced to your career?
Initially, my mother influenced me to pursue my education in Occupational Therapy as she worked for most of her career as a teacher and personal care attendant for disabled adults. She was always such a great advocate for inclusion and essential services needed to promote independence and wellbeing for individuals with disabilities. Once I went into healthcare operations, I was influenced by many – most notably by my former leader and mentor Craig Williams. He believed in my strengths and provided me with opportunity to grow, challenge boundaries, and work to my greatest capacity. He is also the epitome of resilience, which I truly admire.
What led to your involvement with NEAHQ?
My former colleague and friend Rita Morin introduced me to NEAHQ several years ago. She was impressed by my knowledge of ambulatory quality programs and thought there was a real need to diversify the backgrounds of the organizations members.
What are your goals as a NEAHQ Board Member?
My main goal is to ensure that members are getting the most out of their membership through networking, programming, and leadership.
How do you balance your demanding professional life with your personal life?
Some days I am not so good at juggling, but ultimately, I know that if I feel fulfilled in my personal life it will only help me to be a better professional.
The New England Association of Healthcare Quality (NEAHQ) invites you to become a member of our organization that represents healthcare quality professionals across New England.
NEAHQ membership offers many benefits:
Educational programs (in-person and virtual) including an Annual Conference and Webinars offering continuing education and CPHQ credits at reduced rates

Networking Events to meet peers and exchange ideas

Social Networking through LinkedIn

Healthcare Quality Job Board

E-Newsletter covering important trends in healthcare quality and NEAHQ news

CPHQ Review Course

Member Forums

Archived Events

Opportunities for volunteerism and committee participation
NEAHQ Membership annual dues are $75. To join, go to the NEAHQ website at https://www.neahq.org/join and complete the form online or download it and mail it in with your payment.
PI Corner – Prioritization Matrix
A Prioritization Matrix is a useful technique to identify which problems are the most important to work on solving first. The Matrix helps you rank problems or issues using weighted criteria that are important to your project and/or organization. Useful when you need to prioritize problems, or to achieve consensus about an issue or proposed solution.
A 27-member group representing federal agencies, health care organizations, patient and family advocates, and respected industry experts has released Safer Together: A National Action Plan to Advance Patient Safety. The National Steering Committee, convened by the Institute for Healthcare Improvement in May 2018, harnessed their collective knowledge to develop actionable and effective recommendations put forward in the new plan, which includes a self-assessment tool and an implementation guide.
---