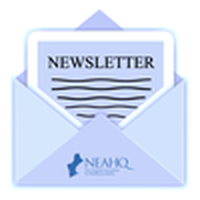 President's Message

Happy New Year! The first snow has come and gone and the chill of New England winter has set in. The last year has flown by and, much like 2020, 2021 was marked by the ebb and flow of COVID waves, from Delta to Omicron, and increasing numbers of COVID vaccines and boosters. Once again, healthcare quality professionals have shown true resiliency, flexibility, and dedication in leading through chaos and solving the multitude of problems and challenges the pandemic has and continues to bring. I look forward to the promise of a new year filled with health, compassion, collaboration, and continuous improvement.
On that note, the NEAHQ Board and Committees are working hard to plan out all of our events and programs for 2022. You can find more details in this newsletter's program update! Additionally, as we say goodbye to 2021, we wrapped up our call for mentors for the first ever NEAHQ Pilot Mentorship Program, and will be looking forward to identifying and pairing up interested members with one of the amazing mentor volunteers early in 2022. Additionally, to help achieve our mission to serve as the resource of choice for healthcare quality professionals across the continuum for networking, education, and information, we are excited to offer our Professional Enhancement Grant for another year. This Grant will provide $1,200 to an NEAHQ member to obtain the Certified Professional in Healthcare Quality (CPHQ) credential or for a current CPHQ to attend an educational conference. Check out the details in this newsletter's announcement! As always, if you have any ideas about what program topics you would like to see, or are interested in presenting, please let us know by emailing admin@neahq.org.
It is with humble gratitude, the entire NEAHQ Board of Directors and I thank you for your participation in our many events and programs and for all you do to improve the health of our communities.
Wishing you and your loved ones a happy, healthy new year!
Haley Friedler, MPH
Updated Mission, Vision, and Values
In the spring of 2021, the NEAHQ Board updated our mission, vision and values to ensure strategic alignment and clarity for all stakeholders. Working together, our refreshed mission, vision and values provide a true north for our organization as we move forward with decision making, programming and membership development. To supplement our communication and support our commitment, we created a short video (https://www.neahq.org/articles/neahqs-new-mission-vision-and-values). Please email admin@neahq.org if you have any questions.

Interested in becoming a NEAHQ Director?
The NEAHQ nominating team is seeking applications for the 2022 - 2023 Board of Directors ballot that will be presented to the membership for a vote in March 2022.
Becoming a part of the NEAHQ leadership gives you the opportunity to help shape the future of the organization and healthcare quality. Board leaders are responsible for:
Guiding the association

Anticipating change in the quality environment

Addressing the interests and needs of members
The candidate positions available include:
President-elect is a three (3) year commitment, serving a year as President-Elect, a year as President and a year as Past- President.
Directors serve for a one-year term, act as a representative of the healthcare quality professional community, serve as an ambassador for stakeholder and community relations and work with Board to carry out its responsibilities. They also participate in supporting the work of the various committees.
Treasurer serves for a two-year term, pays the bills and maintains the financial records of the association.
Please contact Lynn Myers at 617-636-4826 or lmyers@tuftsmedicalcenter.org to discuss the various positions or complete an application.

Apply for the Professional Enhancement Grant!
The mission of the New England Association for Healthcare Quality (NEAHQ) is to empower healthcare professionals throughout New England by providing education, networking, certification preparation and professional practice resources. To support this mission and further promote the professional development of our members, the NEAHQ Board of Directors is pleased to announce a call for applications for the 2022 Professional Enhancement Grant.
The grant provides $1200 financial assistance to NEAHQ members to obtain the Certified Professional in Healthcare Quality (CPHQ) credential or for a current CPHQ to attend an educational conference.
NEAHQ members in good standing are eligible to apply. The grant will be awarded based on the applicant's compliance with eligibility criteria as well as the quality and comprehensiveness of responses on the application, which can be found here.
NEAHQ will be accepting applications through April 1, 2022 and the grant will be announced at the spring program.
We look forward to your applications!
The Program Committee would like to extend NEAHQ members and contacts warm holiday greetings and best wishes for a happy and healthy new year!
A special thank you to all speakers, panelists, and attendees who helped make our Healthcare Quality Week virtual mini conference a success. Held on October 19th, this was our most well attended event since the pandemic began! Offering three continuing education credits, the event featured a keynote speech from Dr. Srinath Adusumalli of the Penn Medicine Nudge Unit, three breakout workshops, and a panel on leading quality improvement work in a virtual environment. We appreciate your participation.
We also have an exciting announcement to share! NEAHQ has joined a Healthcare Quality Collective with six other state healthcare quality associations to offer FREE quarterly webinars for active members. This means that NEAHQ members now have access to 28 FREE webinars each year – and 28 FREE CPHQ continuing education credits annually. We are thrilled to offer this incredible new membership benefit at no additional cost – so if you are not yet a member, now is the time to join! Participating state associations include Arizona, Florida, Georgia, Michigan, North Carolina, and Oregon.
Finally, the Program Committee has started planning a spring virtual mini conference with a focus on Patient Safety. Look out for more information about this event and upcoming webinars soon!
Lauren Hartwell & Aliysa Rajwani
NEAHQ Program Committee Co-Chairs
NEAHQ Member guest on Perspectives on Healthcare Podcast

NEAHQ members will remember Rob Oliver from his February 2020 webinar presentation "Robology 101: A Patient's Perspective on Quality Customer Care." An accomplished speaker, author, and trainer, Rob launched the Perspectives on Healthcare podcast in 2021. I was happy to join the conversation as a guest on the program to offer my perspective as a hospital pharmacist leader. Our discussion points included improvement as part of quality in healthcare, learning from both errors and successes, taking standard approaches to care delivery processes, the roles of pharmacists and pharmacy technicians, patient-centeredness and empowerment, and the growing emphasis on health equity. Thank you for listening! Access the episode here.
Amanda Chuk, Pharm.D, BCPS, CPHQ
Board Member Spotlight – Jay Spitulnik

Would you please share a brief overview of your career?
Having worked in the corporate world for more than 35 years, I've been in higher education since 2014. My work at both individual and organizational levels has involved traditional quality management, performance improvement, process design and improvement, change facilitation, project management, and learning design and implementation. In addition to healthcare and higher education, I've worked in the power generation, financial services, manufacturing, professional services, and high tech industries.
Which aspect of your current position is especially rewarding?
As an educator, the most rewarding element of my work is knowing that somewhere, a patient's positive experience is the result of something I've taught to someone.
Has any one individual greatly influenced to your career?
After more than 40 years there have been so many positive influences that I can't single one out.
What led to your involvement with NEAHQ?
Everything I've done throughout my career has addressed what we can do as individuals and organizations to be better. Being involved with that helps me promote that throughout the New England healthcare community.
What are your goals as a NEAHQ Board Member?
I'm hoping we can expand our outreach to all elements of the healthcare community.
How do you balance your demanding professional life with your personal life?
A blog on the Psych Central website (click here) provides 11 suggestions for how to be mindful. I find that following some of these suggestions helps me maintain that balance.
The New England Association for Healthcare Quality (NEAHQ) is the regional association for healthcare quality professionals. Since 1975, NEAHQ has provided a forum where healthcare quality professionals across the healthcare continuum can join together to advance this specialty. Our vision is to empower healthcare quality professionals across New England to improve health. We aim to serve as the resource of choice for healthcare quality professionals across the continuum for networking, education, and information, as a collaborative, member-oriented, inclusive, and continuously improving organization.
Benefits of a membership to NEAHQ include:
Free educational webinars: Access to over 25 free webinars a year through an education collective with other state associations.

Membership Rates: Pay discounted rates to all NEAHQ events, including the annual conference.

Healthcare Quality Job Board: Browse healthcare quality job opportunities to further your career or post an opportunity at your organization for other members to see.

Member Forums: Use these virtual platforms to exchange information with other NEAHQ members about healthcare quality trends and issues. Member forums allow you to ask a question of your professional peers or share a best practice from your work to move healthcare quality forward.

Archived Events: Did you miss an in-person event or webinar? As a NEAHQ member you can access archived events so you will never miss an opportunity to stay up to date with the healthcare quality knowledge.

Member-to-Member Networking: Interested in connecting with your fellow healthcare quality professionals? Attend one of NEAHQ's in-person networking events or create a profile on the website and connect with other members through the NEAHQ Website Membership Directory.
Membership annual dues are $75. To join, go to the NEAHQ website here and complete the form online or download it and mail it in with your payment.
Scatter plots (also known as Scatter Diagrams) are used to study possible relationships between two variables. Although scatter plots cannot prove that one variable causes a change in the other, they do indicate the existence of a relationship, as well as the strength of that relationship. A scatter plot is composed of a horizontal axis containing the measured values of one variable (independent variable) and a vertical axis representing the measurements of the other variable (dependent variable).
Oops! I Did It Again: The Psychology Of Everyday Action Slips. Mylopoulos M. Top Cogn Sci. June 2021.
Unintentional unsafe actions such as slips can threaten patient safety. This article discusses "action slips" – failure to act as one intends in the context of habitual or routine action – and the psychological mechanisms underlying slips. Can be found here
We have all had the experience of everyday mistakes like distractedly pouring orange juice into our cereal bowl rather than the milk or inadvertently continuing on our regular route home rather than stopping at the store as we had planned. These so-called "action slips" (Reason, 1984a) are characterized as failures to execute one's intention arising in habitual or highly learned action sequences. This paper argues that a proper understanding of slips, and thus action more generally, requires an understanding of the control structure that implements an agent's guiding intentions. Central to this structure are motor representations that are active downstream of intention and attentional processes that ensure that they reliably implement the intentions they serve.
AHRQ Toolkit Helps Engage Patients and Family Members in the Diagnostic Process
A new toolkit by the Agency for Healthcare Research and Quality (AHRQ) can help engage patients and family members in improving the diagnostic process. AHRQ's Toolkit for Engaging Patients To Improve Diagnostic Safety, developed for patients and clinicians in all practice settings, is composed of two evidence-based strategies that promote meaningful engagement and communication with clinicians to improve diagnostic safety.
---