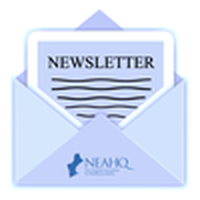 In the blink of an eye, spring has sprung in New England. Flowers are beginning to appear, birds are returning, and the light lasts a bit longer with each passing day. While we may not have seen the very last of winter just yet, the warmer spring weather is just around the corner.
NEAHQ has had a busy winter season. We have kicked off our first ever Pilot Mentorship Program, with the aim of improving networking and professional development for our early career healthcare quality professionals. Another Professional Enhancement Grant has been awarded to one of our members to attend an educational conference - congratulations, Daniel! We have also joined a Healthcare Quality Collective to expand the educational content available for our members, increasing the number of webinars available to more than 25 a year and making all webinars freely available for all members. Closing out the winter season, we held another Careers in Healthcare Quality Student Networking event to meet and encourage the next generation of healthcare quality leaders. Finally, we have brought back our annual Spring Conference this year with a half day virtual conference titled: Exploring Patient Safety Programs & Tactics planned for Tuesday, April 12th, 2022. Check out the Program Committee update for more information. We hope to see you all there!
As always, we thank you for your commitment to improving the health and care of our communities. Wishing you and your loved ones and happy, healthy spring season!
Haley Friedler, MPH
NEAHQ has joined a Healthcare Quality Collective with six other state healthcare quality associations to offer FREE quarterly webinars for members. This means that NEAHQ members now have access to 28 FREE webinars each year – and 28 FREE CPHQ continuing education credits annually. We are thrilled to offer this incredible new membership benefit at no additional cost – so if you are not yet a member, now is the time to join! Participating state associations include Arizona, Florida, Georgia, Michigan, North Carolina, and Oregon.
NEAHQ is providing these additional benefits to foster continuous learning and development and make available networking opportunities for our membership. This new offering is being made available to all existing members at no additional cost and is available as part of your NEAHQ membership fee.
To sign up for future webinars presented by the collective or NEAHQ, you can access the NEAHQ events calendar on the NEAHQ website.
To become a NEAHQ member, renew your membership or learn about corporate memberships, click here.
Happy spring from the NEAHQ Program Committee. We are looking forward to warmer weather and the new beginnings that springtime brings!
Registration is now open for our upcoming Spring Virtual Conference: Exploring Patient Safety Programs & Tactics on Tuesday, April 12th from 3:30 to 6:00 PM. Click here to learn more and get in on the action!
Offering 2.5 continuing education credits, this virtual program will highlight the intersection of patient safety, risk management, and quality improvement. The schedule includes a keynote presentation from George Blike, former Chief Quality & Value Officer at Dartmouth-Hitchcock, titled "Old and new models underpinning quality, safety and risk."
This event will also feature a series of roundtable presentations with various organizations reviewing patient safety structures and tactics. Participating organizations include Lahey Hospital (Karen Schoonmaker), Cambridge Health Alliance (Brianne Goodwin), and Tufts Medical Center (Linda Habibi). The event will conclude with a question & answer session with speakers. We hope to see you there!
Finally, we want to remind NEAHQ members to keep an eye out for upcoming Healthcare Quality Collective webinars posted on our event calendar. Don't miss out on these free webinar offerings!
Lauren Hartwell & Aliysa Rajwani
NEAHQ Program Committee Co-Chairs
Professional Enhancement Grant Awarded!
The NEAHQ Board of Directors is pleased to announce that Daniel Okyere was awarded the 2022 NEAHQ Professional Development Grant. Daniel is a Charge Nurse for the Department of Veteran Affairs, VA Bedford.
Daniel will use the $1200 grant to attend the Institute for Healthcare Improvement Patient Safety Congress in May.
We received several excellent applications and had to make difficult choices between high-caliber candidates. The applicants all spoke eloquently about their desire to improve their knowledge and skills and to be advocates for patients and their families by improving the systems of care delivery.
Congratulations to all the applicants.
Outcome Measure Harmonization and Data Infrastructure for Patient-Centered Outcomes Research in Depression: Data Use and Governance Toolkit
Patient registries are important tools for advancing research, improving healthcare quality, and supporting health policy. Registries contain vast amounts of data that could be used for new purposes when linked with other sources or shared with researchers. This toolkit was developed to summarize current best practices and provide information to assist registries interested in sharing data.
The contents of this toolkit were developed based on review of the literature, existing registry practices, interviews with registries, and input from key stakeholders involved in the sharing of registry data. While some information in this toolkit may be relevant in other countries, this toolkit focuses on best practices for sharing data within the United States. Considerations related to data sharing differ across registries depending on the type of registry, registry purpose, funding source(s), and other factors; as such, this toolkit describes general best practices and considerations rather than providing specific recommendations. Finally, data sharing raises complex legal, regulatory, operational, and technical questions, and none of the information contained herein should be substituted for legal advice.
The toolkit is organized into three sections: "Preparing to Share Data," "Governance," and "Procedures for Reviewing and Responding to Data Requests." The section on "Preparing to Share Data" discusses the role of appropriate legal rights to further share the data and the need to follow all applicable ethical regulations. Registries should also prepare for data sharing activities by ensuring data are maintained appropriately and developing policies and procedures for governance and data sharing.
The "Governance" section describes the role of governance in data sharing and outlines key governance tasks, including defining and staffing relevant oversight bodies; developing a data request process; reviewing data requests; and overseeing access to data by the requesting party. Governance structures vary based on the scope of data shared and registry resources.
Lastly, the section on "Procedures for Reviewing and Responding to Data Requests" discusses the operational steps involved in sharing data. Policies and procedures for sharing data may depend on what types of data are available for sharing and with whom the data can be shared. Many registries develop a data request form for external researchers interested in using registry data. When reviewing requests, registries may consider whether the request aligns with the registry's mission/purpose, the feasibility and merit of the proposed research, the qualifications of the requestor, and the necessary ethical and regulatory approvals, as well as administrative factors such as costs and timelines. Registries may require researchers to sign a data use agreement or other such contract to clearly define the terms and conditions of data use before providing access to the data in a secure manner.
The toolkit concludes with a list of resources and appendices with supporting materials that registries may find helpful.
Friedler HS, Leavy MB, Bickelman E, Casanova B, Clarke D, Cooke D, DeMayo A, Egan B, Gibson D, Hajjar S, Gliklich R. Outcome Measure Harmonization and Data Infrastructure for Patient-Centered Outcomes Research in Depression: Data Use and Governance Toolkit. Research White Paper. (Prepared by OM1, Inc. and its subcontractors the American Board of Family Medicine and the American Psychiatric Association under Contract No. 75Q80119C00005.) AHRQ Publication No. 21(22)-EHC031. Rockville, MD: Agency for Healthcare Research and Quality; October 2021. DOI: 10.23970/AHRQEPCWHITEPAPERDEPRESSIONTOOLKIT.
To read the report, visit https://effectivehealthcare.ahrq.gov/sites/default/files/pdf/outcomes-research-depression.pdf
NEAHQ currently has $50,502.94 in total assets. Total revenue generated in 2021 was $8,465. NEAHQ generated $5,965 in revenue from membership dues while $2,500 came from program fees. Total expenditures for 2021 was $7,200. Total expenditures were made up of administrative and operating expenses. Net revenue for 2021 came out to $1,265.
As always, please feel free to reach out to treasurer@neahq.org with any questions.

Board Member Spotlight – Aliysa Rajwani
Would you please share a brief overview of your career?
I have a clinical background as a dentist and worked clinically before transitioning into Quality, Patient Safety & Performance Improvement. I have a Master's in Public Health degree from the Harvard T.H Chan School of Public Health where I majored in Healthcare Management. I went onto work at 'Cambridge Health Alliance (CHA)' a safety net health system in the Greater Boston area and worked there for over 2 years as a Quality Project Improvement Advisor, where the focus of my work was on performance improvement, population health and value based care. Following CHA, I joined 'Tufts Medical Center' as the Asst. Director of Performance Improvement where I was tasked with building the Performance Improvement program through the use of Lean & Six Sigma process improvement methodologies. As part of my role, I also developed several capacity building training programs such as the "Quality Academy" program with the vision of fostering a culture of continuous improvement at the medical center. Last year, I transitioned to the role of Asst. Director of Performance Improvement at the 'Tufts Medicine' health system in the Integration & Operational Excellence department where the focus of my work is on leading both integration & operational excellence projects for the entire health system, building a standardized problem solving toolkit and continuing to work on capacity building PI programs. I have a CPHQ and am also certified in both Lean as well as Six Sigma.
Which aspect of your current position is especially rewarding?
I enjoy every aspect of my role and am extremely passionate about continuous performance improvement and patient safety. I enjoy the diversity of projects, collaborating with cross-functional members of the organization as part of projects including clinical and non-clinical staff. I do believe that enhancing processes & improving operational efficiency has an impact on the health of patients and populations and that is truly the part I find most rewarding in my current position.
Has any one individual greatly influenced to your career?
No one particular individual has influenced my career but my clinical career served as the catalyst for pursuing a degree in public health and a career in performance & quality improvement. Working clinically as a dentist with patients demonstrated first hand to me the impact that process improvement & operational efficiency could have on patient health outcomes, experience & safety.
What led to your involvement with NEAHQ?
I truly believe in the mission of NEAHQ and when the opportunity to be a board member presented, I did not think twice before getting involved. Moreover, it has been an extremely enriching experience working with passionate quality leaders from across New England and learning from them and their rich, diverse experiences.
What are your goals as a NEAHQ Board Member?
My goal is to improve access to continuous learning & development opportunities through NEAHQ programs for our membership and to also make available networking opportunities. It is through these opportunities that I aim to help advance NEAHQ's mission of advancing healthcare quality with my NEAHQ colleagues and thus have an impact on the health of patients and populations.
How do you balance your demanding professional life with your personal life?
I use weekends and after work hours to recharge, spend time with my family and frequently engage in activities that I enjoy such as going for a run, baking and hiking.
The New England Association for Healthcare Quality (NEAHQ) is the regional association for healthcare quality professionals. Since 1975, NEAHQ has provided a forum where healthcare quality professionals across the healthcare continuum can join together to advance this specialty. Our vision is to empower healthcare quality professionals across New England to improve health. We aim to serve as the resource of choice for healthcare quality professionals across the continuum for networking, education, and information, as a collaborative, member-oriented, inclusive, and continuously improving organization.
Benefits of a membership to NEAHQ include:
Free educational webinars: Access to over 25 free webinars a year through an education collective with other state associations.

Membership Rates: Pay discounted rates to all NEAHQ events, including the annual conference.

Healthcare Quality Job Board: Browse healthcare quality job opportunities to further your career or post an opportunity at your organization for other members to see.

Member Forums: Use these virtual platforms to exchange information with other NEAHQ members about healthcare quality trends and issues. Member forums allow you to ask a question of your professional peers or share a best practice from your work to move healthcare quality forward.

Archived Events: Did you miss an in-person event or webinar? As a NEAHQ member you can access archived events so you will never miss an opportunity to stay up to date with the healthcare quality knowledge.

Member-to-Member Networking: Interested in connecting with your fellow healthcare quality professionals? Attend one of NEAHQ's in-person networking events or create a profile on the website and connect with other members through the NEAHQ Website Membership Directory.
Membership annual dues are $75. To join, go to the NEAHQ website at https://www.neahq.org/join and complete the form online or download it and mail it in with your payment.
The affinity diagram organizes a large number of ideas into their natural relationships. Use it to generate, organize, and consolidate information related to a product, process, complex issue, or problem. After generating ideas, group them according to their affinity, or similarity. It is typically used after a brainstorming exercise, when analyzing verbal data, such as survey results, or developing relationships or themes among ideas.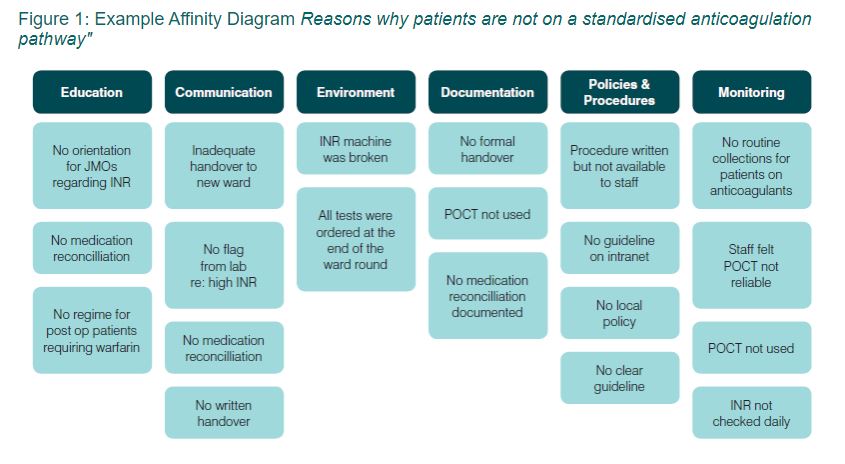 Confronting Racism In Health Care: Moving From Proclamations To New Practices. The Commonwealth Fund., October 2021.
Structural racism affects the safety and equity of care delivery. This report summarizes organizational efforts to reduce the impact of systemic racism on patient care, hiring practices, and policy implementation to ensure transparent, equitable and patient-centered care is reliably available to all. (Hostetter M, Klein S.)
https://psnet.ahrq.gov/issue/confronting-racism-health-care-moving-proclamations-new-practices
To view the report, visit https://www.commonwealthfund.org/publications/2021/oct/confronting-racism-health-care
AHRQ 2021 National Healthcare Quality And Disparities Report, January 2022
For the 19th year, AHRQ is reporting on healthcare quality and disparities. The annual National Healthcare Quality and Disparities Report is mandated by Congress to provide a comprehensive overview of the quality of healthcare received by the general U.S. population and disparities in care experienced by different racial and socioeconomic groups. The report is produced with the help of an Interagency Work Group led by AHRQ.
The National Healthcare Quality and Disparities Report assesses the performance of our healthcare system and identifies areas of strengths and weaknesses, as well as disparities, for access to healthcare and quality of healthcare. Quality is described in terms of six priorities: patient safety, person-centered care, care coordination, effective treatment, healthy living, and care affordability. The report is based on more than 250 measures of quality and disparities covering a broad array of healthcare services and settings.
To view the report, visit https://www.ahrq.gov/research/findings/nhqrdr/nhqdr21/index.html
Do you have a quality event happening that you would like your fellow NEAHQ members to know about? We are interested in original content about a successful project, recent promotion and any other quality news you would like to share. Please submit articles for approval and posting to admin@neahq.org.
---