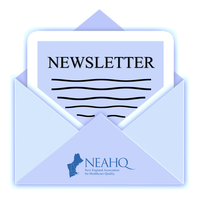 Winter 2018-19 Newsletter
President's Message

Happy Holidays from the Board of the Massachusetts Association for Healthcare Quality! I hope that everyone is enjoying this Holiday season. While we are all busy with parties, shopping and all that this jam-packed, bustling time of year brings, we wanted to update you on a few things we have in the works for early 2019.
The program committee has three Webinars slated for the Winter Webinar Series, Dealing with Difficult Situations, Lean Principles and Application in Healthcare and Approaching Risk Preemptively to Manage the Rapidly Increasing Complexity in Care Delivery. We are also working on the agenda for the Annual meeting in April, so look for the save the date coming soon.
Again, all of us at MAHQ hope you have a happy holiday season and a healthy New Year!
Best regards,
Rita Morin, MSN RN
MAHQ President 2018-2019
ECRI Institute Launches Site to Replace Shuttered National Guideline Clearinghouse
Clinicians once again have free access to medical practice guidelines four months after the federal government closed a website that housed the information. The not-for-profit ECRI Institute has launched the ECRI Guidelines Trust. The website is meant to replace the Agency for Healthcare Research and Quality's National Guideline Clearinghouse that shut down July 17 due to budget cuts. Like the Clearinghouse, the new Trust is public and carries the same information contained on the former site. The Trust will include new summaries of guidelines and a new scorecard that will provide unbiased evaluations on the rigor and transparency of guidelines compared to the National Academy of Medicine standards for trustworthiness. By next year, the Trust will add more features such as advanced searches capabilities, an enhanced user interface, and support for guideline implementation and decision-making. More features could be added over the next year as ECRI consults with various healthcare stakeholders to find out more about what kind of information they find most useful.
To view the new ERCI Guidelines Trust, visit https://www.ecri.org/Components/GuidelinesTrust/Pages/default.aspx
Performance Improvement Corner
Pareto Charts
by Taruna Banerjee, MPH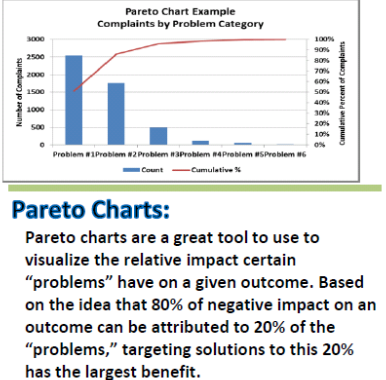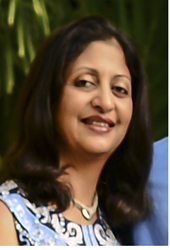 Committee Member Spotlight
Clara Rivera, MPH
Pediatric Complex Care Program Manager
Tufts Medical Center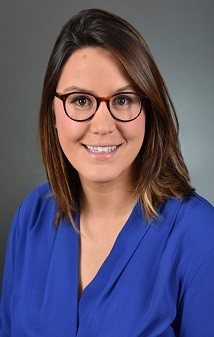 Would you please share a brief overview of your career?
Clara: My original goal was to become a speech pathologist, but I realized in my senior year of college that I wanted to hold off on obtaining my Masters. After that, I worked as an ABA therapist at Nationwide Children's in Columbus, Ohio. Working there helped illuminate all of the challenges families face when trying to provide important services for their child. I recognized that larger systems needed to be changed and started advocating for patients on a government level. Wanting to give a voice to patients and families, I decided to pursue a Master of Public Health degree in Healthcare Policy and Management. While I was in my graduate program, I worked full time at Boston Children's Hospital and with the guidance from nursing leaders I sort of stumbled into quality. With their support, I participated in the Lean Six Sigma Green Belt program that they offered and realized that I thrived on being a change agent and leading quality initiatives where the staff or unit nurses were the one's leading the charge. I have been invested in quality ever since and now work at Tufts Medical Center where I remain dedicated to coaching others to recognize the need for continuous improvement to help drive the patient experience and patient safety initiatives.
Which aspect of your current position is especially rewarding?
Clara: Currently, I'm the Pediatric Complex Care Program Manager and I find great reward in seeing how quality initiatives have helped shape our most medically complex patients' lives. It's incredibly moving to see how our team helps provide families with the resources they need to empower them to advocate for their child and support while they navigate our complex health care systems.
Has any one individual greatly influenced to your career?
Clara: I would say there have been several nursing leaders who have greatly influenced my career. I received guidance from Patricia Mantell, Mary Poyner Reed, and Lynn Myers. They have all been instrumental to my career and I could never thank them enough for their mentorship. When I first began learning the basics of Lean Six Sigma some of the tools were challenging for me. Patricia would take time out of her busy day and I'll never forget her patience and mentorship. But, without Mary's support, my quality career might have never been possible. Her healthcare vision and recognition that front-line staff are the one's driving change still resonates with me to this day. Then, when I began my career at Tufts Medical Center, I met Lynn who introduced me to MAHQ and influenced me to take a bigger look at improving systems and processes that support staff and taught me how to coach ongoing learning and change.
What led to your involvement with MAHQ?
Clara: The webinars! There was one on emotional intelligence and quality improvement and health care policy that made me reach out to members. I immediately wanted to be involved because these members helped me feel connected to other quality leaders throughout all of Massachusetts and New England, not just Boston proper.
What are your goals as a MAHQ Board Member?
Clara: I want members to have access to all of the resources and mentorship that I have had thus far in my career. My goal is to provide members with an up to date platform and continue to provide interesting and relevant content that will help foster young professionals who would like to learn more about quality in healthcare.
How do you balance your demanding professional life with your personal life?
Clara: This is one I'm still learning, but I would say I have had to learn that change is hard and trying to implement improvement ideas in healthcare is even harder. Therefore, it's key I make time and shut off my email to spend "quality" time with friends and family who help motivate me to spread positivity in all aspects of my life.
Recap: MAHQ and PRADA Event
On October 22, 2018, to celebrate National Healthcare Quality Week, the Massachusetts Association for Healthcare Quality (MAHQ) hosted a networking and educational panel event in collaboration with the Program for Research Assistant Development and Achievement (PRADA) of Boston Children's Hospital. PRADA is a structured and supportive learning community for research assistants, research coordinators, and other young professionals at Boston Children's who seek to be tomorrow's leaders in healthcare. The event featured a keynote presentation from Debra Cote, MS, PMP, Senior Director of Information Services Strategic Planning & Performance at the Dana Farber Cancer Institute. Debra highlighted key differences between research and quality improvement (QI) studies, and spoke in detail about the essential project management skills needed to drive process improvement work forward. This was followed by a panel discussion with four quality leaders representing Boston Children's Hospital, Dana Farber Cancer Institute, Covenant Health, and Optum/United Behavioral Health. The QI panelists each discussed one QI project with recent success in their programs, including relevant results, and also shared three lessons they've learned about implementing and managing QI initiatives. These lessons included the importance of stakeholder buy-in and using data to drive iterative change. This was followed by a lively question and answer session with audience members. The MAHQ & PRADA Healthcare Quality Week kick-off event was well-received and well-attended!
Winter Webinar Series
MAHQ is pleased to open registration for our Winter Webinar Series
Part I: Dealing with Difficult Situations
Date: Tuesday, January 29, 2019
Time: 12:00 pm to 1:00 pm
Speaker: Roseann Swanson,
Exeter Hospital
Parts II & III (Registration upcoming)
Part II: Lean Principles and Application in Healthcare
Date: Tuesday, February 26, 2019
Time: 12:00 pm to 1:00 pm
Speaker: Patricia Mantell,
Boston Children's Hospital
Part III: Approaching Risk Preemptively to Manage the Rapidly Increasing Complexity in Care Delivery
Date: Tuesday, March 26, 2019
Time: 12:00 pm to 1:00 pm

Speaker: Jeff Durney,
Dana Farber Cancer Center
Connect with MAHQ!
MAHQ is on Facebook - connect with us here: https://www.facebook.com/MassachusettsAssociationforHealthcareQuality for updates on programs and other opportunities. You can also keep up with MAHQ, including job postings, through our LinkedIn account: http://www.linkedin.com/groups?gid=2699826.
Websites of Interest
HealthLeaders Media
www.healthleadersmedia.com
Health Leaders Media is a monthly look at the issues and trends that are shaping the business of healthcare today.
The Commonwealth Fund
www.commonwealthfund.org
The Commonwealth Fund is a private foundation that aims to promote a high performing health care system the achieves better access, improved quality, and greater efficiency, particularly for society's most vulnerable, including low-income people, the uninsured, minority Americans, young children, and elderly adults.
Centers for Disease Control & Prevention
www.cdc.gov/stltpublichealth/performance/index.html
In public health settings, performance management and quality improvement tools are being promoted and supported as an opportunity to increase the effectiveness of public health agencies, systems, and services.
---